THE 40th HARVEST NEWS !
The 40th harvest began on Thursday 24 August and ended on 13 September 2017. This is one of the earliest harvest in 40 years!
An average of 46 pickers worked for a total of 14 days!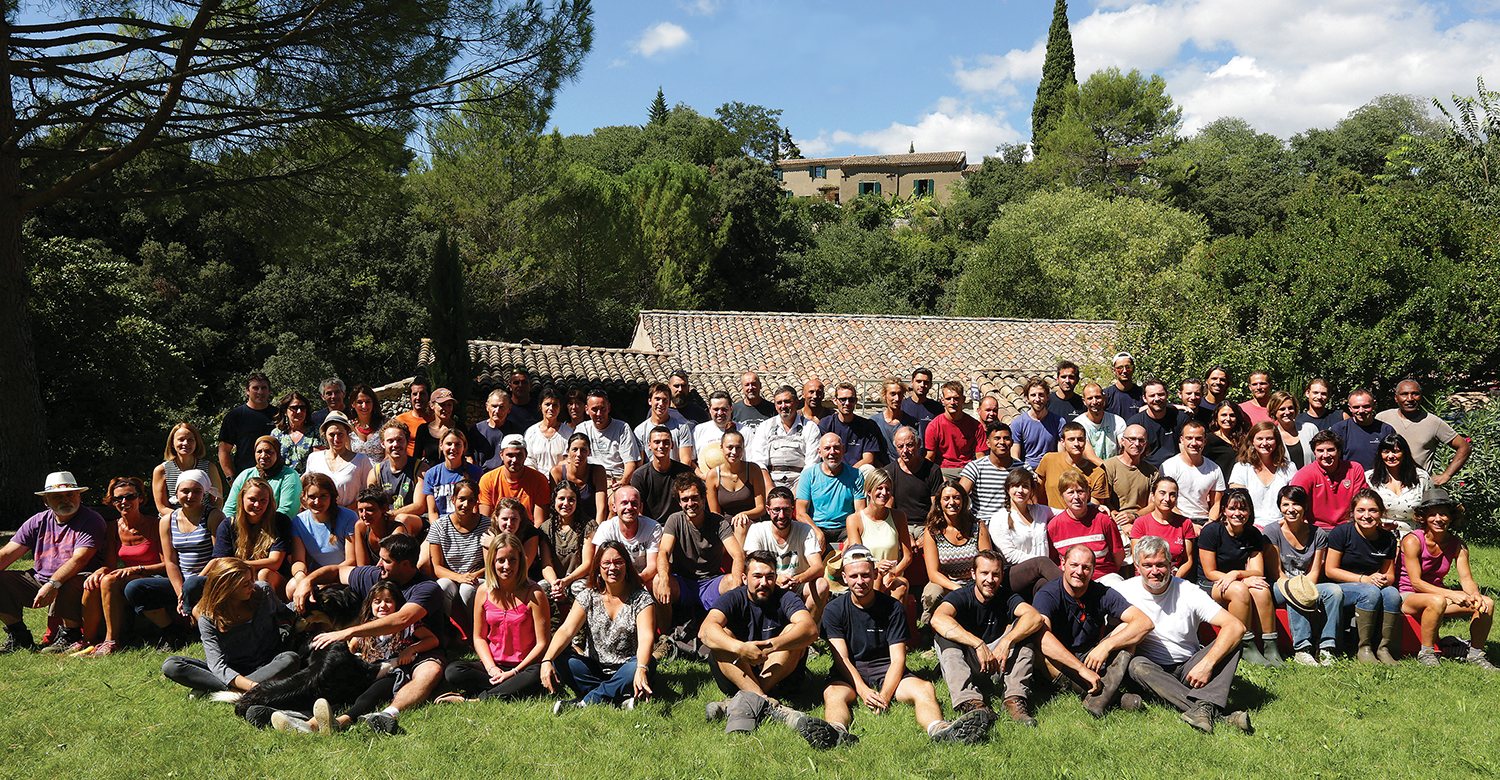 2017 Weather Report
Thanks to plenty of rain during the first half of the year, and a magnificient dry, sunny summer, the vines hardly suffered any water stress.
Conditions were optimal for perfectly ripe grapes.
A few words on this vintage:
Cool nights and fairly warm days accompanied us throughout the harvest, it had a distinctly autumnal feel!
"Rare" is the best adjective to describe the 2017 vintage."Rare" because the quantities harvested are unfortunately low – we estimate a 40% decrease in production for the three Grands Vins.
In the vats 2017 already presents signs of being an outstanding vintage!
For this 40th vintage, Véronique Guibert de La Vaissière, the owner, prepared delicious lunches for the pickers, mouth watering break full of Mediterranean flavours!
Harvest of the Mas de Daumas Gassac WHITE
From Thursday 24 August to Monday 28 August
All the grape varieties that go into the Mas de Daumas Gassac White blend were picked over five days.
The quality of the harvest was perfect! Well-balanced notes of citrus fruit, apricots and honey emerge with strength and freshness.
Harvest of the Mas de Daumas Gassac ROSÉ FRIZANT
From Tuesday 30 August to Friday 1 September
The entire harvest of the Mas de Daumas Gassac Rosé Frizant 2017 was picked in three days. Bled rosé from our youngest vines of Cabernet Sauvignon. A very small crop this year for this wine.
Notes of red fruit – strawberries and raspberries – low alcohol content and tremendous freshness!
Harvest of the Mas de Daumas Gassac RED
From Saturday 2 September to Wednesday 13 September
The "Non-Cabernet Sauvignon" (Merlot, Nebbiolo, Dolcetto, Petit Verdot, Khondorni, Pinot Noir, Malbec, Tannat, Tempranillo, etc…) and young Cabernet Sauvignon vines were haversted from 2 to 5 September. Lots of richness, fruit and freshness.
The Cabernet Sauvignon from the Peyrafioc and Peynaud plots was harvested after a five-day break to reach perfect ripeness. This grape variety, so valued in the Gassac Valley, concentrated its aromas with the effect of the wind, giving magnificient strength in the vats!
Copyright : Guilhem Canal & Genevieve Motsch