HARVEST NEWS 2011
Basile GUIBERT, Harvesting manager
How was the harvest this year ? : "Very intense… a lot of work to be done in 20 consecutive days in bright sunshine. At the end of the day the result is splendid, viognier, cabernet sauvignon, muscat…the grapes were magnificent.""
Grape picking by hand ? : "Yes, to avoid the risk of damaging the grapes which have taken almost a year to develop and to avoid being rough with the vine. On the one hand you have bunches of grapes whose berries must be protected right up to the vat to avoid losing its flavours and on the other hand you have the vine which starts a new cycle once the grapes have been cut. Harvesting by hand ensures high-quality viticulture.."
Who are the grape pickers ? : "As every year for the past 33 years, we have gathered a team of 25 people from all over the world. This year they were French, Polish, Romanian, Belgian, German, Senegalese, Italian, Moroccan and British. Enthusiastic amateurs, friends, students or simply those looking for seasonal work, they all enjoy the experience so much that some have been coming back year after year for over 15 years. The delicious meals at lunchtime prepared by my mother Véronique certainly have something to do with it !"
What makes a good grape picker in your opinion ? : "Cheerfulness and speed are essential qualities….after that a good grape picker must know one or two songs, must not forget any bunches on his row and must not leave too many leaves in his crate !"
And finally, what training do you need to be a grape picker ? : "We only take people with 10 to 12 years of higher education and a will of steel to confront rows of 2h40 long…ha ! ha ! ha ! No, of course the only important thing is that the person should share our values."
And finally, what is your view of the harvest ? : "An Indian summer, a sweet life and therefore grapes in the same vein. Fine, elegant with exuberant fruitiness"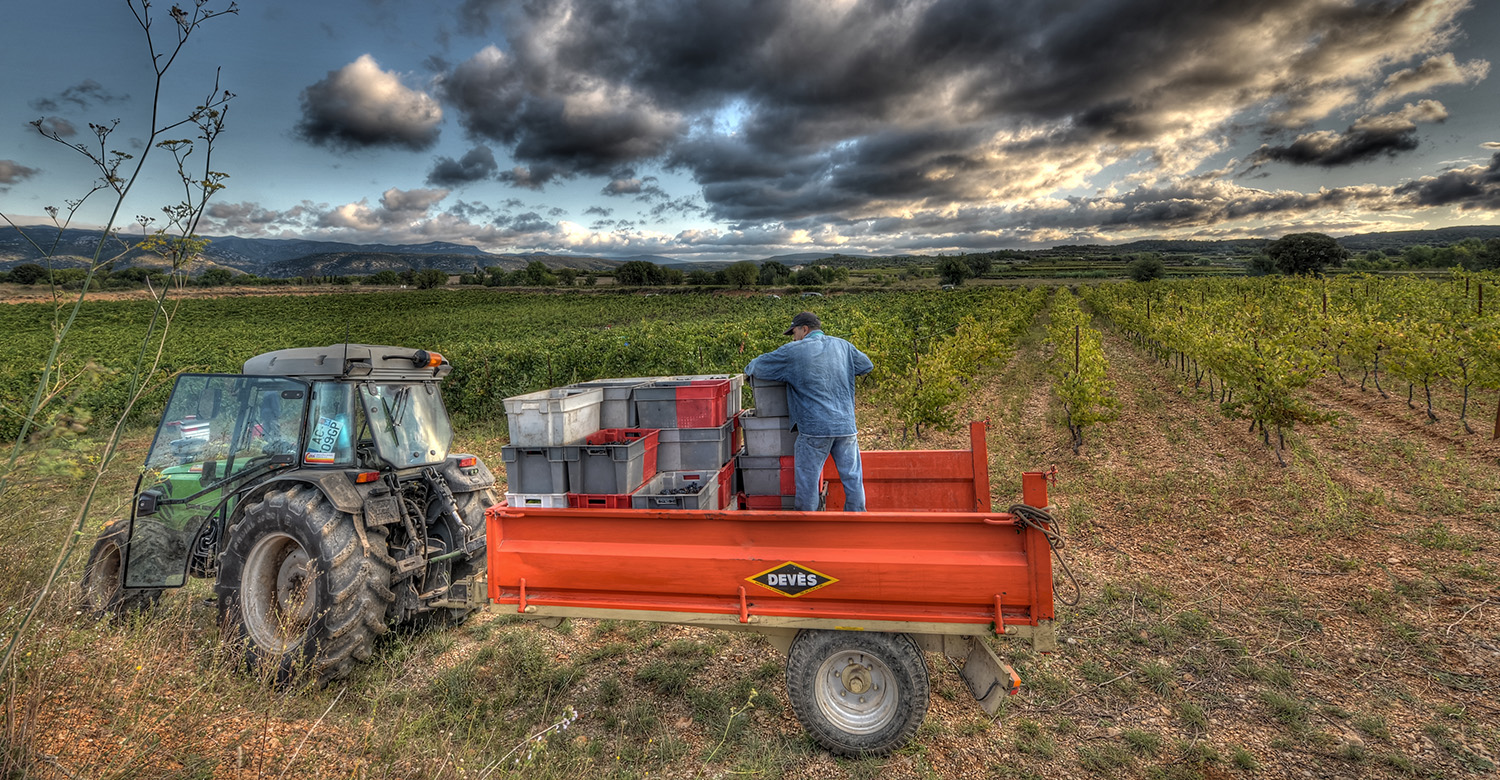 Amélien GUIBERT et Renaud THILLAYE, in charge of the sorting table
What is your view of the harvest ?
"This year, the weather has been outstanding ! We had the advantage of having the sun throughout the entire harvest with grapes that were continuing to become more concentrated all the time. It was really wonderful for the quality of the grapes !"
What does your job involve ?
"Ha ! ha ! Only letting the very best get through! Removing the leaves and snails and finally checking the flow to allow the grapes to enter the vat at a regular rate."
Philippe MICHEL, Cellar master
How was the harvest this year ?
"We waited right until the last minute to pick the very ripe grapes to have very candied notes."
What is the specificity of this year, in your opinion ?
"A good harvest with decent volume ! This hasn't happened since 2004. We are happy. Otherwise, this rather candied note, as I said before, is really characteristic of this year."
Samuel GUIBERT, Winemaker
How was the harvest this year ?
"This harvest has been superb. We chose the right date to start. The grapes were picked at the best of their taste, acidity, sugar content and aroma and in perfect condition. The magic does not take place in the cellar but in the vineyard. And of course, harvesting by hand in a friendly atmosphere, greatly helped by the presence of our brother Basile who managed the team of grape pickers
What were the weather conditions for this vintage and what effect did this have ?
"Before harvesting, the cool summer allowed the grapes to mature very slowly. This preserved the aromas and a very good level of acidity. That acidity is a key component as we attach great importance to the freshness of our wines. During the harvest we experienced a stunning Indian summer ! Moderate heat during the day and cool nights."
What is the specificity of this year, in your opinion ?
"I really believe that the specificity of the year is the cool summer which preserved the aromas. The 2011 vintage will be expressive and very aromatic."
Aniane, 12 October 2011